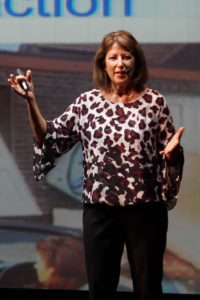 These 60-minute programs educate, stimulate, and motivate attendees to enhance cognitive function. Each can be a stand-alone program and all include a PowerPoint presentation and handout.
Brain Fitness: A New Kind of Workout
Learn strategies for staying sharp and keeping your brain fit, and discover fascinating facts about your brain!
PAVE Your Way to a Better Memory
Improve your memory by learning strategies for retention and recall of names, tasks, and information, all with Dr. Sasser's easy-to-use PAVE method.
Remembering, Forgetting, and Aging
Learn why we forget, and differences between normal forgetfulness and symptoms of Alzheimer's disease/dementia.
His Brain Her Brain
Men may be from Mars and women from Venus, but now we're all here together.  Learn how our brain differences impact our perception, thinking, and communication.
From Memories to Memoir
Creating memoir stimulates your mind and your memory by empowering you to look into the past and share your insights about life. You will experience ways to start creating your memoir and be inspired with ideas for continuing on the journey.
Solve Problems with Insight and Creativity
Learn how to overcome obstacles in problem solving and gain strategies for more creative thinking.
Forget about IQ, What's Your EQ?
Emotions influence the way we act and react. Discover how your brain processes emotion and learn strategies for increasing your emotional intelligence to help you communicate more effectively and achieve career and personal goals.
Testimonials
I am currently attending a six-week series of presentations on brain fitness by Dr. Linda Sasser. I find her well-organized in her speaking, in her deft use of PowerPoint, and in the usefulness of her handouts. She is "user friendly" to her audiences. She has much to contribute to all age groups.

Dr. Dennis Gibson, Counseling Psychologist

I wanted to let you know how much I enjoyed your lectures. I use your "PAVE" method of retention and retrieval and it's working beautifully. Thanks again for the great information.

Leslie Weldon, Austin, Texas

Excellent visuals and handouts. She kept the audience engaged and participating.  Lots of useful information and helpful tips presented in a fun way. Highly recommended.

Eugene J. Chapp MD, retired Pediatrics Division Head, Henry Ford Hospital, West Bloomfield Center, West Bloomfield, Michigan